Scratch Made Market Saturday, October 15th 2016!
I'll be at the Scratch Made Market on Saturday, Oct. 15th! 
Come stop by and say Hello! I'll be in booth B-4 with all my letterpress stuff including greeting cards, postcards, books, prints, and more! Plus free bookmarks! There will be lots of other great artists and music too! So come get out of the rain, warm up with a hot beverage and some food, enjoy some music, and check out some great hand-made work! Get more info at: https://www.facebook.com/events/513067062151463/
xxxxxxxxxxxxxxxxxxxxxxxxxxxxxxxxxxxxxxxxxxxxxxxxxxxxxxxxxxxxxxxxxxxxxxxxxxxxxxx Come see me and check out my art at the 7th Annual Portland Letterpress Fair!
In other news... I'm working on custom wedding stationery and will be posting pictures here and on my
Tumbler
page soon so check it out if you want to see those. Also, make sure to visit my
etsy
shop for any letterpress printed postcards, greeting cards, prints, journals, and books you may need and want!  Like this great postcard - The Best Hatch!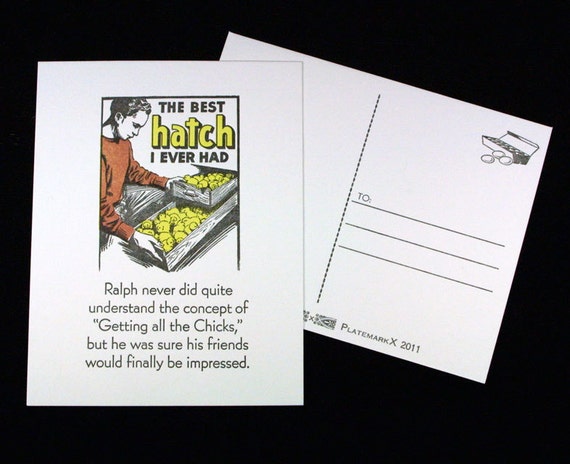 X